Dogs love toys, and many dog toys serve a dual purpose. The best toys for dogs are those that help them relieve stress while also promoting good dental health. Dog teeth cleaning toys are an excellent way to combine these two functions into one toy! In this post, we will explore the benefits of dog teeth cleaning toys, how they work, and what pet parents can do in order to choose the perfect toy for their pup(s).
Benefit Orla Care to Dog Health
Dogs health is directly related to their gums and teeth. Apart from the obvious dental diseases, poor oral hygiene is also linked to dog diabetes and heart disease. Research suggests that inflammation and infection associated with periodontal disease can affect blood-sugar metabolism in dogs leading to diabetes. A link between periodontal disease and cardiopulmonary diseases like endocarditis has also been found in dogs.
How Dog Toys can Help Clean Teeth
Dogs love to chew. From the early stages of pups to older dogs, toys are an important part of every dog's life. While most toys can promote dental health, there is a particular type that does this best: toys made to clean teeth!
Although there is no conclusive evidence that one toy works better than another when it comes to "teeth cleaning", many experts agree that toys with bristles can be used to remove plaque from hard-to-reach spaces between teeth. This is achieved by rotating the toy in their mouth and scrubbing against its surface and gums.
Choosing the Best Teeth Cleaning Dog Toys Sri Lanka
There are lots of different toy options out there but it can be difficult to choose one that will meet your pup's needs and expectations while also promoting good oral hygiene. In order to help you make the right choice we have created a guide on how pet parents should go about choosing their dogs' teeth cleaning toys.
– Pay attention to durability
A great toy for your furry friend has to last long enough so they'll want to chew on it over and over again. It would be silly if after one day your dog toys fell apart and they were deprived of their favourite toy. Not only is durability important to the longevity of a toy, but it also ensures that more time can be spent playing with toys instead of wasting money on replacing them!
– Dog toy design should be practical for teeth cleaning
The best toys are those which promote dental health along with providing comfort to your pup. Toys designed specifically for oral hygiene help your pet stay healthy while giving them hours of entertainment every day!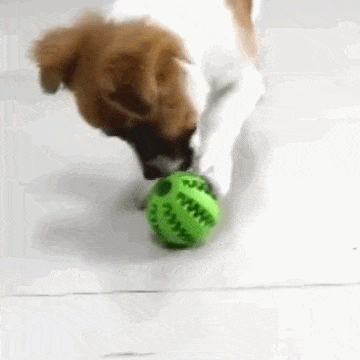 – Consider your pup's chewing habits
Chewing preferences vary from one dog to another, some dogs are lighter chewers while others may be aggressive chewers. so knowing how much a pup likes to chew will help you find the perfect toy! If they don't like heavy chews, get them toys with soft surfaces or avoid ones made from harder materials such as rubber and plastic altogether.
– Check the size and weight of the dog toy
Dog toys come in different shapes and sizes. Some toys are designed for smaller breeds while others may be too large or heavy. When purchasing a new toy, it is important to consider the size of your dog as well as their chewing habits before deciding on what type of toy you want them to have!
Some toy manufacturers and brands will have extensive guides on choosing which toy fits best for your dog's size, breed and chewing habits. Check these out before you start shopping to make sure that you're getting the toys that have been personally recommended for them!
– Make sure there's no potential choking hazards
Dogs love toys – all dogs do – but some may take things too far. If your dog toys are all too small for them, they might be tempted to try and swallow it whole. This is an important thing to watch out for because if toys are swallowed there could be serious consequences – not only can it lead to choking but the toy may get stuck in their stomach or intestinal tract leading to life-threatening complications!
Also, toys that are easily broken apart can be a health hazard to your pup. If the toy is too small or fragile, they may break it off and swallow the pieces which can be dangerous for them to digest!
– Choose dog toys that are less likely to inflict damage upon teeth
A great dog toy will promote healthy dental hygiene without inflicting any harm on their mouth in the process. Ideally, we want our dogs' toys to not cause any pain or discomfort while also removing plaque from hard-to-reach places between teeth and gums. This way you'll enjoy a happy pet who has clean teeth and no toothaches!
– Choose toys made from safe materials
When looking for great teeth cleaning dog toys, we also need to make sure that the material used is non-toxic. Such toys should not contain lead paint or any other toxic substances which can harm our pup's health if ingested or swallowed by accident. The best option would be natural rubber, latex or bamboo – this way even though they eat some pieces they won't get sick!
Authors Pick – 3 Top Dog Toys Sri Lanka
KONG Classic Red is the original dog toy that started the KONG phenomenon. Made from an exclusive, ultra-durable, natural red rubber formula. It's perfect for stuffing with treats and food to keep your dog busy for hours. The erratic bounce makes it ideal for games of fetch or other activities where your dog has to work to retrieve their prize.

This interactive treat-dispensing rope dog toy has three exciting surfaces for your dog to chew on. It has a rope, rubber nubs, and nylon bristles to help stimulate gums and clean your pup's teeth while he chews. Designed to satisfy strong chewers, this food and treat-dispensing toy will help strengthen your pooch's cognitive abilities, reward them with a yummy snack, and help support healthy gums and teeth through chewing on the rope
TPR dog bone toy tough dog chew toy is a great way for your pup to enjoy some healthy chewing. TPR is a thermoplastic rubber that has been engineered with the same material as childrens' lunch boxes and bike tires. The durability of this material makes it perfect for dogs that like to chew, as they can use their teeth on it without causing any damage or wear and tear. It also cleans up easily by just rinsing with soap and water!
If you're looking for a way to clean your dog's teeth without a costly visit to the veterinarian, there are two main options. You can give them chew toys that rub against their teeth and gums or use dental stick treats. Whichever method you choose, make sure it is a practical method rather than marketing hype. Dogs respond best when given oral care in tandem with one as a treat and the other as a form of a chew toy. Let us know what type of toy works best for your pup!